I am covering two days with this writeup since I spent one day catching up on various things and only really traveled on the 8th.

June 7, 2003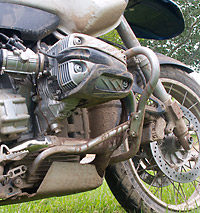 I looked out the tent this morning and saw my poor bike sitting there covered in grunge. If the thing were alive I would be feeling some serious guilt. She has sat out in the rain many nights now but keeps going and going. How long can a neglected machine stay reliable? I am 2000 miles from home, and this question continues to flutter towards the front of my conciousness.
I spent the morning at an outside sink rinsing off everything that wasn't stored in the panniers. After that I took a little trip into Harding to a bay-type car wash and removed a few pounds of mud. I wasn't expecting the bike to be clean but I wanted to be able to see through the windshield, have working headlights, and get enough grit off the bag mounts so that everytime I touched something I didn't come away with a handful of dirt and grit.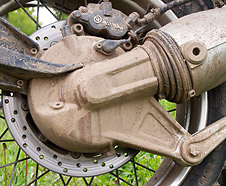 After this I took advantage of the locale and rode out to the Little Big Horn national monument and learned just what Custer did to get himself into such a mess. It sounds like his biggest problem was lack of good intelligence and the result is well known. Custer was no dummy and I believe that if he had known the actual size of the Indian camp he would have quickly retreated in the opposite direction. One of the biggest surprises is just how little is actually known about what happened even after all these years. It is amazing that with this being the case, there are still hundreds of books written on the subject. Of course the irony of sitting at one of the benches right off the upper ridge and looking at the headstones in one direction and looking at I-90 and the Little Big Horn Casino in the other direction was certainly disturbing. What is it about casinos out here?
This was the first day of the trip that I saw zero rain.
June 8, 2003
Today I headed towards Glacier. My plan initially was to take it easy and look around for two short days and be there Monday night. I don't take my own plans too seriously anymore. I know better.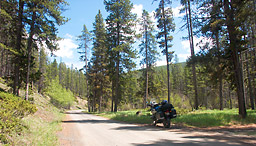 I started out heading west on I-90 and rode to Billings since there was really little choice. I try to avoid interstates but there are a limited number of roads out here and distances can be pretty vast so sometimes riding the slab is inevitable. Unfortunately, they are homogenous and boring and usually loaded with big trucks. No thanks. The only real disadvantage to riding backroads is you may ride 50 miles to the next town and find that it is three houses and a grain elevator. It is important to keep track of your fuel level for this reason. When I get down to about half a tank of gas (~110 miles) I start looking for a gas station and quickly quit worrying about octane levels and brand names. It also pays to be aware of what day it is. Sometimes finding gas on a Sunday can be tough. These concerns don't really apply on interstates. Interstates are the same everywhere and finding fuel is less of a concern. Since I choose to avoid them I have to watch my fuel level more closely but this seems a small price to pay for the superior riding experience in my humble opinion.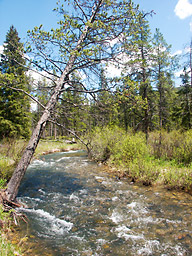 I took I-90 to 3 and then to 89. I thought I might set up camp in the Lewis and Clark National Forest (south of Great Falls) but it was pretty early when I got there. With plenty of daylight hours left I started taking side roads to explore a little and found one that turned out to be an ORV trail. At the start of the road there were lots of dirt bike families camping. I decided it wouldn't be prudent to go too far off the beaten path since I was alone and was riding the bike that had to take me 2000+ miles home. Call me a wuss.
Just because I wasn't going to explore the woods on the bike doesn't mean I couldn't explore on foot. I parked the bike and did a couple of small hikes along some streams. It was the perfect time of year for being in the woods and because of the recent rains everything was really green and there was plenty of water for all the streams and creeks. I could easily have spent a couple of days exploring the area but I had had other places I wanted to be more.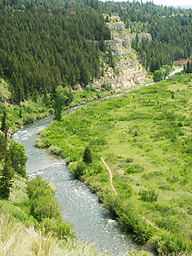 I decided it was too early to camp and it wasn't too far to Glacier so I kept moving on 89. I passed through Grand Falls where 89 becomes I-15 for awhile, filled up with gas and continued north. The ride started out somewhat scenic but then it got pretty flat.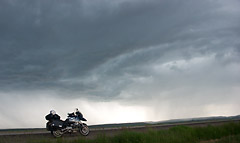 As I mentioned before, storms really can't sneak up on you out here and you have plenty of time to stop and get in your rain gear and maybe even take a picture or two. It was pretty obvious that I was going to get wet and there wasn't anything I could do about it beyond suiting up and riding it out. I couldn't decide which of these storm cloud pictures I liked the best so I decided to just post them both and let you decide.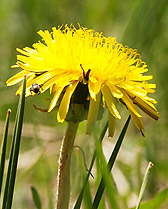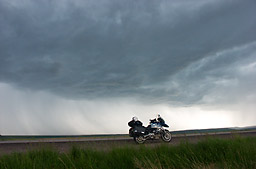 I arrived in St. Mary on the easter side of Glacier at about 20:00 and set up the tent in the rain. Putting up a tent in the rain isn't anymore fun than taking down a tent in the rain. Luckily, it was dry the night before so I wasn't putting up a wet tent in the rain. The bike sat out yet another night in the stormy weather and I believe it may be time to start thinking about bringing a small cover for the girl on the next trip.
By the way, I saw the odometer pass 30,000 miles today and the bike is running very well.