June 19, 2003
I didn't do any riding today. I slept late and played the rest of the day. I made it to the BMW dealership and picked up some oil, a couple of oil filters, and socialized with the crew there. The dealership has just been sold so it is undergoing some changes. I haven't spent enough time there with the new folks to have any opinion about the place yet.
June 20, 2003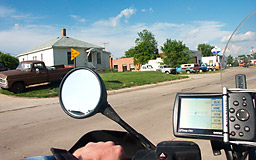 Today was the final push home. I took 280 southeast to Auburn like I have done countless number of times before. The trip was stress free and I kept getting more and more excited the closer I got to home. I couldn't wait to see the animals and some familiar surroundings. My housesitter said everything was fine but I had to see for myself. I love traveling the open road but there is something to be said about your own home and I couldn't wait to sleep in my own bed once again.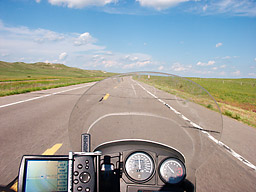 Some final thoughts on the trip. All in all it was great. There was a little bit more rain than I would have preferred but except for it being a bit annoying there were no real problems associated with the weather. I was properly equipped and except for the one day that my overpants leaked so badly, I was dry in my own personal climate controlled outfit.
Unlike last year, I never really wondered if I chose the proper way of exploring the places unknown. Towards the end of my trip last year I started wondering if I wouldn't have enjoyed myself more if I had taken my Jeep and mountain bike instead of the motorcycle. I was touring in southern Colorado and Utah though, so places like Moab had me craving the bicycle. During this trip at no time during the climbs up to the passes at 10,000+ feet did I wish I was pedaling myself to the top. I ride the mountain bike for fun and I'm just not that hard core.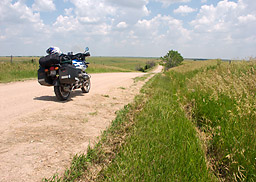 Another idea I had for this trip was to tow my DRZ400 behind the Jeep and play on it once I reached the fun places. I still think this is a good idea but not for the solo traveler. I know I would have felt severely restricted if I had to play it safe while out riding so I could make it back home in one piece. If I find someone next year that is interested in traveling with me I might try this approach and tow a dirt bike. I am excited by all the offroad riding possibilities in the West and Baja is calling me as well.
My childhood desire to see the West has now been partially fulfilled. I think of these trips as scouting missions and I keep track of places I want to revisit and spend more time at. The list keeps growing! Some of the places I saw this trip left me nearly breathless and I can't wait to return and explore further.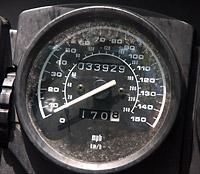 I can't say enough good things about the equipment I used. Everything worked flawlessly and it is not often you can say that! My untested camera gear did exactly what I hoped it would. The tent stayed completely dry and the bike ran and ran and ran even covered in mud and after sitting in the rain every night for a week. It will take me a few washings to get all the grunge off the beast but I feel I owe her that much as well as an oil change, valve adjustment, etc.
Total, the trip encompassed 6,208 miles (GPS), thirteen states, 19 days and if my prior fuel mileage of about 45 mpg held this trip, about 138 gallons of gas. Next year? I don't know yet but I am already starting to look at maps! May your life be filled with fun and adventure and remember...
Just Ride the Damn Thing!