Well, today is the day! I always get excited when I start the bike up and ride down the driveway at the beginning of an extended trip. Thousands of miles lie ahead and there is no way of knowing quite what to expect. You never know what sorts of trials and tribulations lie along the route and this is precisely why it is called an adventure and is the reason I take these trips.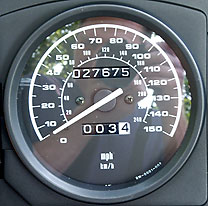 I got a late start because I put off too much of what I needed to do until this morning. It was almost 10:00am by the time everything was loaded and I closed the gate for the last time for a couple of weeks. These first days I will be riding pretty familiar territory so I will be moving most of the time without many stops and acclimating my body to hours in the saddle. To the left is the obligatory odometer shot showing mileage at time zero.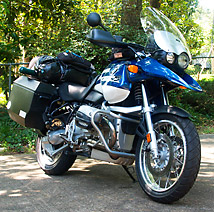 This is what the bike looks like fully loaded. I washed it, changed the oil, adjusted the valves, and synced the throttle bodies the weekend before leaving. Notice how clean everything is because this is sure to change...
I headed north on 280 to 231 and had lunch at a place called Charlie B's. Lunch consisted of BBQ chicken, corn on the cobb, broccoli, mashed potatos, corn bread and sweet tea. A lunch in the true Southern tradition and a good way to say goodbye to the South for awhile. The food was tasty and this was a fine way to start my on-the-road eating habits. What are those you ask? Well, first of all, I avoid chain restaurants. Mom and pop places are so much more interesting and I like to help the individual entrepeneur. The food is better and so is the company. Secondly, I normally only eat two meals per day while traveling and these are usually a brunch and an early dinner. If they are good size this is all I need. I snack when I first get up and then put an hour or two on the road before stopping for the first meal. I carry cooking equipment with me but try to limit camp cooking to quick things if I miss one of the two meals. I find I just don't like stopping for groceries once I am on the road. I did miss dinner today and cooked when I got to camp.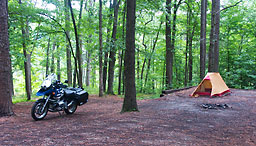 This first day was prerouted and I found the camp site with ease. I stayed the night at Chickasaw State Park close to the showers for $11. Some people don't like paying money to camp and I agree some of the time. Other times I am willing to spend a couple of bucks if I think I may get to my destination a bit late or if I need a shower or someplace to do laundry. State parks tend to run the gamut from near luxury to the barest minimum. The main advantage is that I know I have a place to put the tent when I arrive. Today was a good, solid 347 mile day and except for a bit of rain around Decatur was pretty uneventful. It was a good start and I hope to get into "cruise" mode pretty quickly.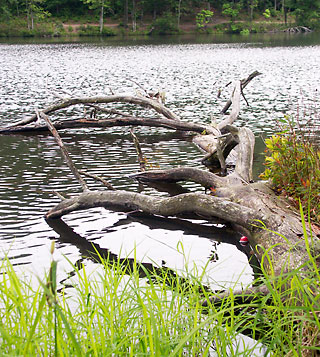 Tonight I was already glad that I brought the fishing pole. My camp site was on a hill overlooking a lake and about dusk I grabbed the rod and some tackle and managed to catch absolutely...nothing. My "catch" of course didn't matter and the whole exercise was therapeutic. Exactly what a vacation is supposed to be right? By the way that bobber wasn't mine when I took the picture but a long branch reach later and I added it to my meager supply of tackle.