The state of Missouri was someplace I planned on just blasting through and my first experiences this morning didn't instill any desire to linger. It was flat and ugly. Before today I didn't realize that there are some pretty fun roads and the state starts getting hilly as you head northwest. I took one wrong turn that added probably 40 miles to my route but luckily I corrected my mistake by taking Hwy 49 and this turned out to be what was arguably the most entertaining road of the day. It was twisty with 40-50 mph sweepers and almost no traffic.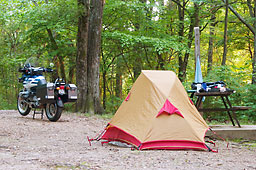 And speaking of wrong turns... Well, it wasn't actually a wrong turn because it was part of the route I had calculated sitting at my computer a few days ago, 700 miles away. Well, the road I was on turned out to be a dirt road through a private hunting lease. The dirt part I liked, the possibility of playing someone's moving target was an experience I will save for a later time. The gps comes in handy at times like these. Unless I was carrying a topo map for this area, finding an alternate route would have been tricky. Typical roadmaps just don't have the detail or coverage for roads this small and I really don't like backtracking. It is far more adventurous to try and find an alternative route on the fly. I have more information on this in one of the sidebars but between two data cards I had the entire area of my trip covered using Garmin's Road and Rec. After zooming in and looking around a bit I found some connecting dirt roads that got me to where I wanted to go.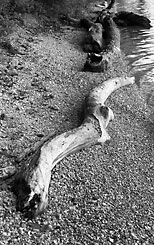 Temperatures have started to drop already. This is partly due to the rain and the bank thermometer I passed a bit ago said 58 degrees. Not too cold but I did end up using the jacket liner and a sweatshirt the entire day.
I got to camp about 18:00 at Lake of the Ozarks SP. Pit toilets only but it was on a lake and I had the place to myself after the fishermen left a bit after dusk. The shot of the boat was taken by just aiming the camera at waist level and the framing was a fluke. You can tell the shutter speed was pretty slow though and that they were moving.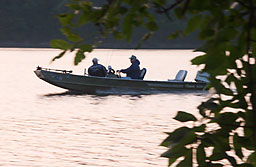 When I first got to the park there was a family fishing from the bank and a girl of about 7 or 8 trying her luck with a cane pole. Her little brother was about 5 or 6 and kept trying to take her "good" spots. They each had a couple of small fish and were having a ball. The parents on the other hand seemed to have their hands full trying to keep up with the excess, youthful energy of the children.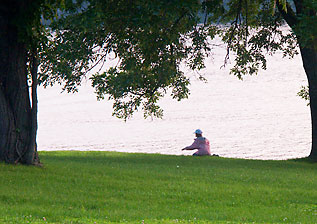 The long days make summer a great time to travel and as you head further north darkness comes later and later. Since I will be moving into the mountain time zone soon I will be "gaining" an hour as well. I had planned on pulling my own fishing pole out once it got dark and everybody was gone but I started reading and before I knew it I had started to nod off. It wasn't even dark yet and I was ready for bed.