Happy Birthday to me! I have to admit it was a little strange being on the road for my birthday. A typical day to everyone around me, at home things would have been different. Luckily, I knew that even though I wasn't home I would be in the thoughts of loved ones and this was enough. I didn't really "need" everybody knowing I was a year older anyway...hehe.

I got an early start this morning and was at Viking Lake SP by 16:00. I unloaded everything and setup camp and was writing in the journal by 17:00. It isn't getting dark until sometime after 21:00 so there is a lot of time to explore if you get to the camp site this early.

Viking Lake state park was too manicured for my tastes. Wilderness is not tidy and neat and those are the terms that came to mind while looking around. Two big mowers were doing their thing as I sat at one of the tables writing and it was after 19:00. RVers may like the pull through areas and the electric hookups but for me this is not only superfluous but attracts the wrong crowd if you know what I mean. I didn't bother me too much though since I would be leaving first thing in the morning and the place had a shower but I have no real desire to return.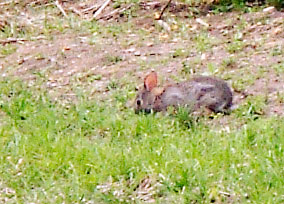 I guess if you have a long winter everything needs to be done quickly and with zeal at the first hint of warm weather. I arrived during what must have been rabbit season because there were literally hundreds of them everywhere. Where are the predators? Here is a (poor) picture of one that was munching near my campsite. It was getting dark so I had to use a slow shutter speed. With a bow or probably even a slingshot I could have had rabbit for dinner but instead I walked to a restaraunt within the park and had a sirloin steak dinner followed by fresh strawberry pie, yum. During the walk back from the restaraunt I saw one doe (deer not rabbit) and was a little surprised that she didn't seem any bigger than our local deer.
I have been treating myself pretty well foodwise so far. There are exceptions though and I won't mention the Chinese place I stopped at for lunch in Lexington, MO today. I'll be kind and just say I was full when I left. My lack of exercise has me a bit concerned but this will change once I reach some hiking areas.
I tried a little experiment tonight since it looked really clear with no sign of inclement weather. I set the tent up without any stakes or the rainfly. This increases air flow and halfs the time it takes to erect the tent. I'll let you know how that goes tomorrow.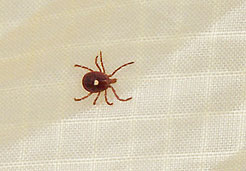 Speaking of eating... I found this little fellow on my tent looking for a meal. I decided that I wasn't willing to provide the grub and promptly killed the thing. I am not a big fan of ticks. He would have had much better luck on one of the rabbits.