The trip is quickly winding down. Like a horse turned towards the barn I am getting more and more antsy the closer I get to home. My one and only thousand mile day occurred last year when I got into this mood and I ended up riding over 18 hours with almost no stops. I have less and less desire to interrupt the ride and take pictures so this is the last day where the photographs on the page were actually taken that day. I will still include photos from the trip so the pages have some color but they will be various pictures I did not post on earlier pages for various reasons.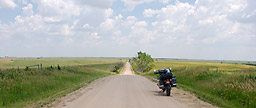 I took Nebraska Hwy 2 southeast until Ansley. I looked for a place to eat breakfast in Broken Bow but couldn't find anything that looked appetizing. Hwy 183 led me to Phillipsburg in Kansas where I ended up getting some lunch at what I thought was a sit-down family style restaurant but turned out to be an order at the counter blah place. I was too tired and hungry to find something else so I made do. All I will say is I left full.
In Phillipsburg I turned east onto 36. Hwy 36 is the type of road that you think about when you think of traveling through Kansas. My guess is that the road engineers don't use much of their curve building skills in Kansas. You mark point A and then mark point B and the road is a straight line between the two points.
I ached a bit today and stopped frequently to hydrate and stretch tired muscles. I think the main problem was the heat. It was now in the upper 80s and seemed quite warm. I had to remind myself that just a few days before I was riding in 50 and 60 degree weather. It will take a bit to readjust to the heat and humidity.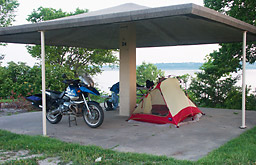 I headed almost directly east until I reached Marysville. I had some dinner at a retro 50s type diner and finished off the cheeseburger and fries (required) with a chocolate milk shake (also required). I enjoyed this much more than I had my lunch. After dinner I took 99 south to 16 and ended up a Tuttle Creek SP. For a person camping this was a really strange place. There was a small check-in station but I didn't see anyone even remotely connected with the park the entire time I was there. There were other people around though and it seemed as if this was a favorite hangout for the local teenagers. With no authority figures around who could blame them?

I set up my tent under a concrete shelter and took advantage of the fact I had cover so I did not bother with the rainfly or stakes. It was much cooler that way. The downside of this spot was no running water and only pit toilets. For some reason there was a fair amount of traffic passing my tent. The road layout is pretty convoluted though and I believe most people were just lost. Nobody stopped.
Tomorrow I will continue east into Missouri and from there head southeast. I have a choice of riding one long day or two short days to get to Alabama.